Hawaiian Uses
Sargocentron spp. - Squirrelfish - 'Ala 'ihi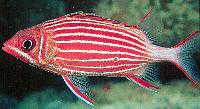 Food Preparation: The `ala`ihi can be prepared raw, salted, dried, or cooked.
Proverbs and Sayings: "Ka `ala`ihi kualoa e kukü `ai i na lima" means, "the long-backed `ala`ihi fish that pierces the hands." This is said of someone who is not to be trifled with.
Interesting Stuff: The scales of the `ala`ihi made it difficult to prepare. It was usually caught in the evening and the `ala`ihi are said to be the favored fish of Kamehameha III (reign: 1825-1854). This fish was also important as a gift known as `älana (a gift given out of one's freewill and generosity) to honor the goddess Pele because of its red color.